Mercy Drops Dream Center Shower Trailer- Behind-the-Scenes of How We Built It
Updated: Aug 6, 2021


ABOUT
We were so honored and Privileged to be asked by this awesome local organization (Mercy Drops Dream Center) to build them a custom shower trailer, complete with four HOT showers, on top of a 14 foot trailer.
They work with thousands throughout Hampton Roads, VA- distributing clothing, food, toys, school supplies and more at their fully equipped warehouse. During COVID- they were one of the top Charities in the area to provide much-needed assistance of essentials for adults and children alike.
Our goal was to be able to take the shower trailer to the streets or use it for mission teams that come to work, sorting items from their warehouse during the summer months.
After a few months of planning, budgeting and getting estimates, we were finally ready to build!
We started with a simple frame- enough to fit four custom doors- all of which we got reclaimed from the Restore in VA, Beach and Norfolk.
We are going to use as many reclaimed materials as possible for this job, however for framing, insultation, electrical and plumbing, buying new materials will ensure the best safety.
A small access door will be just enough room to fit an adult to fix any plumbing or electrical needs- neatly hidden out-of-sight.
DAY ONE: FRAMING THE TRAILER
We only had 30 days to complete this trailer- a very tight deadline- since we were working on it in-between other remodeling jobs with our other company: Handy Andy Fixes and homeschooling our three children fulltime.
But we were focused- knowing that we were giving back to the area and serving in our own way- creating something amazing out of a small idea!
Our little glamping wagon idea during quarantine - during a really cold camping trip- was actually how we got the job with Mercy Drops. Through the power of social media, and the inability for bigger box companies to finish this project until the end of 2021, we gladly took on the task!
We knew that we were starting completely from scratch- creating our own drawings and blue prints out of pure imagination.
We decided to NOT build using a traditional covered trailer- the main factor being price, and the ability to fit as many showers as possible without sacrificing space or quality. To fit FOUR showers, in a covered trailer, we would have to cut through the integrity of the metal outside- causing possible structural damage.
DAY TWO: OUTER FRAMING
We are two days into framing the exterior. We still need to do interior walls and roof. We are constrained by the maximum height of a legal trailer/RV but we want to make the headspace and shower as comfortable as possible.
We build in our backyard, surrounded by our family, our kids and our cats- so you will see cameos throughout our process- being a homeschool family- we are used to having craziness around.
We are Andrew and Christal Marshall- Husband and wife team- and we are so glad to be working together on this project!
Since the start of our marriage in 2008- we have always wanted to do a business together and work together. Now, we can say that we do!
DAY THREE: INNER FRAMING OF SEPERATE ROOMS
We wanted four private, yet roomy showers, but we also wanted the ability to access the controls and showerheads from within. So we have created an inner skeleton with an easy little access door for the maintenance team to easily change the water, find solutions and be ready to fix when needed.
We knew that we could only put in showers, due to grey-water regulations in our city, and not toilets, so we were challenged to fit FOUR comfortable showers in the space of 24 feet, plus tanks, piping and ventilation.
We are secretly so glad for NICE WEATHER- little to no humidity. We don't have a shelter or a barn yet, since we work out of our small home studio- so there is no weather covering to build this custom trailer. With our deadline, we can't afford any setbacks with time or precipitation.


We are celebrating our 12th year of marriage and our 17th year of being together (we met at 17 years old) this weekend! We are so honored to know that we are spending our anniversary weekend building something together- a GIANT piece of hand-made art that is going to bless A LOT of people.
We were encouraged, after custom building everything and creating the budgets, the plans, and the supply lists from scratch with NO help from other organizations, we downloaded some FREE guides about mobile shower units from the awesome group Lavamaex LavaMaeˣ (lavamaex.org), serving thousands of homeless in L.A. Their supply lists and FREE pdf's confirmed a lot of the things that were thinking of building and gave us new ideas for our custom trailer.
DAY FOUR: OUTER FRAMING/ INNER FRAMING AND DETAIL WORK
Four days on framing? That's because EVERYTHING matters from the frame. This process takes a lot of energy, measurements, leveling and double checking everything before we proceed. It's like the foundation of a house- everything stems from it- so it has to be right!
We were discouraged to see small bits of rain- but we were relieved to see that we only had to cover our tools, cameras and equipment a little. Our shelter (20 foot x 20 foot) has been ordered, but we probably won't get it under MOST of our project is completed- so we are praying for clear skies or a miraculous cloud cover for the next week. We have been checking the weather and it does look like rain. Please agree with us that we can finished this project on time.
Pray for energy and wisdom as we still had contracts for other work during the day time, so we have to work on this project at night with 10 work lights to light our way.
We are reinforcing all of the studs with extra layers of protection- since we will have to travel with this trailer. It is better to be double or triple enforced- then see something happen.
We had to go to home depot for a fifth time this month- getting more wood, roof parts and studs. We like to take little trips here- and- there and get what we need for a small batch of work, then use THOUSANDS of dollars worth of supplies in one trip. Therefore, Home Depot is our kid's second home.
DAY FIVE: SCREWING EVERYTHING DOWN TO THE TRAILER AND ROOFING START


after a week of dismal weather- we were feeling a little overwhelmed to the get the project finished.
We started off Memorial Day with screwing everything down with extra brackets and large carriage screws to the foundation of the trailer.


You see smoke because we were actually screwing into metal- lubricating between stops- so that we didn't damage our tools.
Double reinforcing all the bolts, the screws and putting up extra lumber to reinforce all joints is such an important part of the process. It doesn't get seen on the outside- but our goal is to have this thing last forever.
You see us starting to put on the roof- 16 feet pieces. Andrew had to stand there by himself and nail everything in because it would be too heavy to pre make and lift up that high.
As you can see- our kids and family are always around- helping us get food, get water and occasionally tightening a bolt or two. It's a team effort for sure.


DAY 6 ROOFING START
We are so excited about fair weather and the ability to FINALLY work on the roof!
We decided instead of the traditional A-frame shape, to use an asymmetrical format so that we can stick have water run-off, but that we won't go beyond the allotted height needed for RV specifications.
Weight is always an issue that we need to keep in mind as we build- so we decided to do lightweight polycarbonate rigged roofing material. It is super lightweight and very durable. Instead of tons of tiny and heavy shingles, we are use four or five sheets to keep the cost and the maintenance down.
We also chose white on purpose. We are sticking with red doors, grey siding and white trim and roof to match the colors of the brand that we are working with.
As you can see, the roof is strong enough to be stood on by a single person, just in case we need to cut for future ventilation or skylights. Yes, we think of everything.
DAY 7: EXTERIOR WALLS
We got an unexpected but awesome from CEO of Mercy Drops Dream Center to go LIVE about our process and ask for donations and sponsors for this project.
We are looking for full trailer business sponsors, as well as half shower or even door sponsors
We are making great progress today with great weather! The sun gave a refreshing cloud covering since we are exposed to the elements. We are wrapping the sides and started on the siding very soon!
See more about our interview with him here!
Want to see our daily video update? We have a little behind the scenes of our thought process and brainstorming as we are talking through practical items in the trailer.
Tyvek house wrap is the way to go to give the trailer an extra layer of protection from the elements.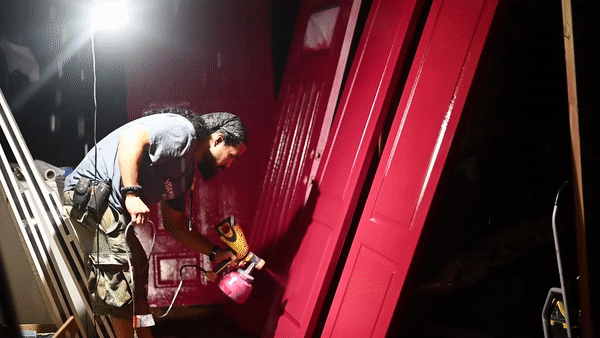 DAY 8- PAINTING THE DOORS
We are praying for a miracle- a rain cover over our property as the rain keeps coming and coming. Not must exterior work can be done because Andrew is working out of a home-made lean-to shelter to paint the doors a crimson red.
He is using a spray gun for full coverage. It takes a few hours to dry between coats, so doing this and getting supplies for the next build day is an all-day affair. We are hoping for better weather as we are under a strict deadline to get this trailer done by mid-June!




DAY 9: THE ROOF AND THE START OF THE DOORS


Definitely been a trying week with difficult weather situations... THE SKY cleared out about 12 o'clock today and we were blessed with fair weather to put on the roof and custom build framing and finish painting a door.
Thank you for prayers as we were able to finish the roof- putting a camera on the roof of our 20 foot high studio to get the right angle (with a plastic bag over it just in case there was another down-pour).
Each door takes about two hours to build a frame to the exact size that we need and cut out the hinges with a specialized tool.
We are grateful that we have gained so many skills throughout the whole year doing a little repair jobs for people around the community so that we can combine all of those skills into one massive project! You never know the skills and abilities that you will gain and how you will use them later!




DAY 10: FINISHING THE DOORS AND STARTING ON THE TRIM
It's been a journey with the doors. We wanted to do reclaimed materials, but one of our salvaged doors from Restore actually became warped overnight- completely bent. Then we looked through our salvaged door pile from our supply shed (yes we collect doors and windows for just this reason) and found a perfect door.... However, there was wood rot on the bottom. Therefore, we had to run to two different stores to save money to get the best deal.
We are so excited about starting on external siding tomorrow- putting the skin on is really going to bring everything together and therefore we can work in the rain, since all external vinyl will protect our work.
The weather has been really zapping our energy- working in the heat and humidity for 9 hours daily. We LOVE taking our nightly beach trips to relax!
The weather has been really zapping our energy- working in the heat and humidity for 9 hours daily. We LOVE taking our nightly beach trips to relax!


DAY 11 AND 12- SIDING AND STARTING ON VENTILATION
We are FINALLY putting the "skin" on the outside of the trailer. After two weeks of framing and detail work on the structure- it is now time to finish the harsh edges and really make this thing look GOOD!
All the trim was reclaimed from Home Depot- in the free bin of old quarter round and shiplap being thrown away.
We were very blessed to have Andrew's Brother along to help as Christal took the Kids to a museum before being stuck at the house all day. It definitely takes a village of sittters and workers to keep our businesses going strong.
We are so thankful for our community of child care watchers, helpers and neighbors (and church members) that support our work and want to help bring food, groceries, meals and watch our kids during this tough deadline.


DAY 13- VENTILATION AND DRAINAGE


Our work today is not very glamorous, in fact it could be a little bit "draining" - electrical, fans, venting and piping is going into the shower. If we pull up on the side of the road to help a lot of the ball, we need to make sure that everything is working properly and we're getting enough power to all the rooms.
Getting drainage from the showers is also a top priority since we are going to have to get a permit for draining into gray water areas safely and efficiently.
We only have seven days left in this project, we are really burning the midnight oil and striving to finish up
DAY 14: MUDDING THE FLOORS
Christal was gone the weekend, visiting her mom and taking the kids away for the weekend so that Andrew can focus and work 12 hour days to get this project done.
We were so blessed that Andrew, plus his brother AND dad, that has 25 years experience in flooring to help out mudding the showers by hand.
Andrew's mom cooked food the workers and provided drinks and moral support - making it a whole family affair to get this project done.
We are currently also putting the finishing touches on the electrical panel to make sure that everything is easy to plug-in, set up and roll out.
DAY 15 AND 16- ELECTRICAL AND PLUMBING
I feel like we're in tech club in school as we are playing around with circuits, pipes, water and all sorts of other experimental things as we convert DC and AC power and go back-and-forth between the different elements of the technical aspects of the project…
we were up in till 10 PM last night researching and doing all sorts of videos and things for this unique project - there is not a lot of information is out there based on this particular model so we're having to custom build everything!
Most organizations that do a shower trailer, use companies that make them for weddings or Porta potty's.
We're having to build a hybrid between a tiny home and a mobile shower unit to create our own unique blueprint….
with RVs, you need all sorts of converter pieces to plug into an RV site. Since we are working with a mobile unit that wants to be plugged in to different churches and organizations for power, we're on a unique obstacle to try to get a very simple system that's easy to plug in go but also can power everything with enough voltage.
When we FINALLY figured it all out- we were SO excited- like discovering a new invention! We had some tweaks and leaks, but that is all easily manageable.
DAY 17 & 18 DRY WALL AND MOISTURE CONTROL
Today has definitely had some ups and downs…
After three frustrating days of custom building and very complex system of plumbing and electrical to run four hot showers, heated by propane and running all of the power off of a safe circuit voltage- PLUS troubleshooting leaks and drips from all of the different piping—- having over five hours of running the water and testing….
.
.
We are so excited that we can actually say that we figured it all out!!
This is such a breakthrough moment for us! Most of the information that we were able to find was working off of ONE RV shower online, we were asked to build FOUR! So we had to problem solve four times the piping, four times of water pressure, four times the power, four times the heat capability and all sorts of other hurdles.
We felt like mad scientists with all sorts of different levers, tapes, testing strategies and even figuring out what lightbulb to use in the special fans (we tried 5 kinds!)
Tomorrow we are going to finish everything off, put in the special deck board flooring that we found at IKEA for a really great price (almost 1/3 the price than the version that we saw at Home Depot) and WE ARE DONE!!!
Almost 200 hours of intense planning, budgeting, shopping, building, shopping, hauling, and shopping some more will all come to a beautiful ending!
We are so blessed to have all hands-on deck with Andrew's DAD AND brother taking off of work to volunteer for this project. It's truly a family affair.
We are under pressure today- only having two days left of this project-pray that we can fulfill our deadline!
--
DAY 19- FLOORING AND MAKING THE STAIRS
We are seeing the light at the end-of-the-tunnel since we had our deadline extended another week.
We are going to hitch it up to the truck soon and take it around for a spin after of course we take photos of it with our new drone!
Flooring from IKEA is getting put it- it was a challenge to find something non-permanent, light weight and easy to clean and remove. We search high and low and IKEA faux deck boards were the perfect back- plus they were in-stock!
The stairs were a challenge- we wanted to save money on the budget and since a small step ladder is too rickety and a set of small plastic was anywhere from 100-200 for the right height we needed- we decided to build our own using pallet board from the local shipyard.
(Excuse the dirt on the floor, we were doing sweeping and mopping soon!)
We are doing final touch ups and painting in the next few days (with the kid's help of course to make sure that everything is running smoothly and looking great!
We are so close to delivery!
DAY 20- The Finale
Delivery day is here!!!
Our custom shower trailer is ready for delivery to Mercy Drops Dream Center
After 200+ hours of work, countless trips to Home Depot, sweat, tears, frustrations, late night decisions, and dreams…. We are finally ready to deliver our hand-made labor of love that is going to reach thousands of people with hope, dignity and love
We were humbled and honored to be sponsored by an amazing organization that helps so many around Hampton Roads.
Want to help co-sponsor for your business or loved one? www.mercydrops.life to donate
Want to build a custom glamping wagon for you? Now taking deposits in 2021/ 2022
www.nomadearth.design to see more about us
www.instagram.com/nomadearthdesign www.facebook.com/nomadearthdesign
see us on tik tok: Search "NomadEarthDesign"